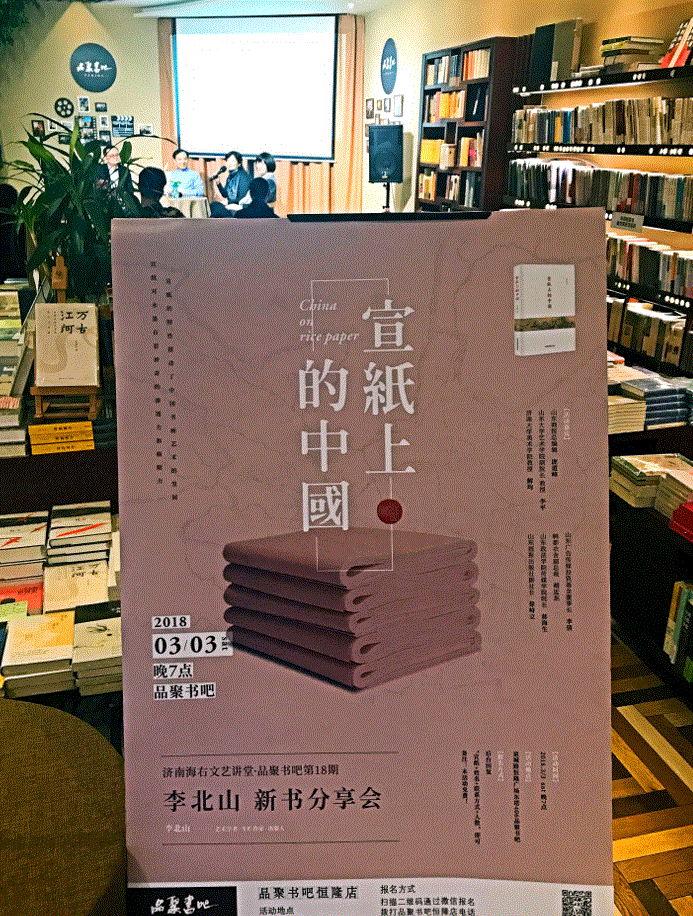 On Mar 3,2018 at 7p.m, art scholar Mr.Beishan Li held his new book sharing session "China on Rice Paper" at Penjoy Book Store Henglong Shooping Mall. This activity was host by Penjoy Book Store, and undertaken by Shandong Pictorial Publishing House.
The General Editor of Shandong Business Daily Mr.Daofeng Pang was invisted to be the host for this book sharing session, and shortly introduced the relationship between the author of "China on Rice Paper" and himself. After his introduction, the book author Mr.Beishan Li shared his feelings with audience when he was writing the book. In addition, Mr. Beishan Li invited his friends who work on different work areas to talk the opinions about author Mr.Beishan Li and new book "China on Rice Paper".
Mr.Daofeng Pang (left) and Mr. Beishan Li (right)
At the beginning, the Vice-president of Handu Group Mr.Jindong Hu admired the new book from the aspect of book cover designing. "We had the very explicit processes to make this new book from identifing the topic to making an arrangement with author to examining the draft by responsible editor to desining the book cover by art editor" talked by the Deputy Director of Shandong Pictorial Publishing House Mrs.Zhili Xu. Qilu Weekly Vice General Editor Mrs.Weijuan You emphasized that the book had the own special style about writing.
Mr.Jindong Hu(left 2)、Mrs.Zhili Xu (right 2) and Mrs.Weijuan You (right1)
Professor of Academy of Art of Jinan University Mr.Jun Xie highly praised the Mr.Beishan Li's literary talent, the new book showed through the way of showing the history stories to attract the readers. The chairwoman of Shandong Advertising Media Investment Fund Mrs.Qian Li talked that each reader should read at least three times to understand this book. The photographer Mr.Ming Yang thought that this book could bring the peaceful to readers no matter what kind of job their have.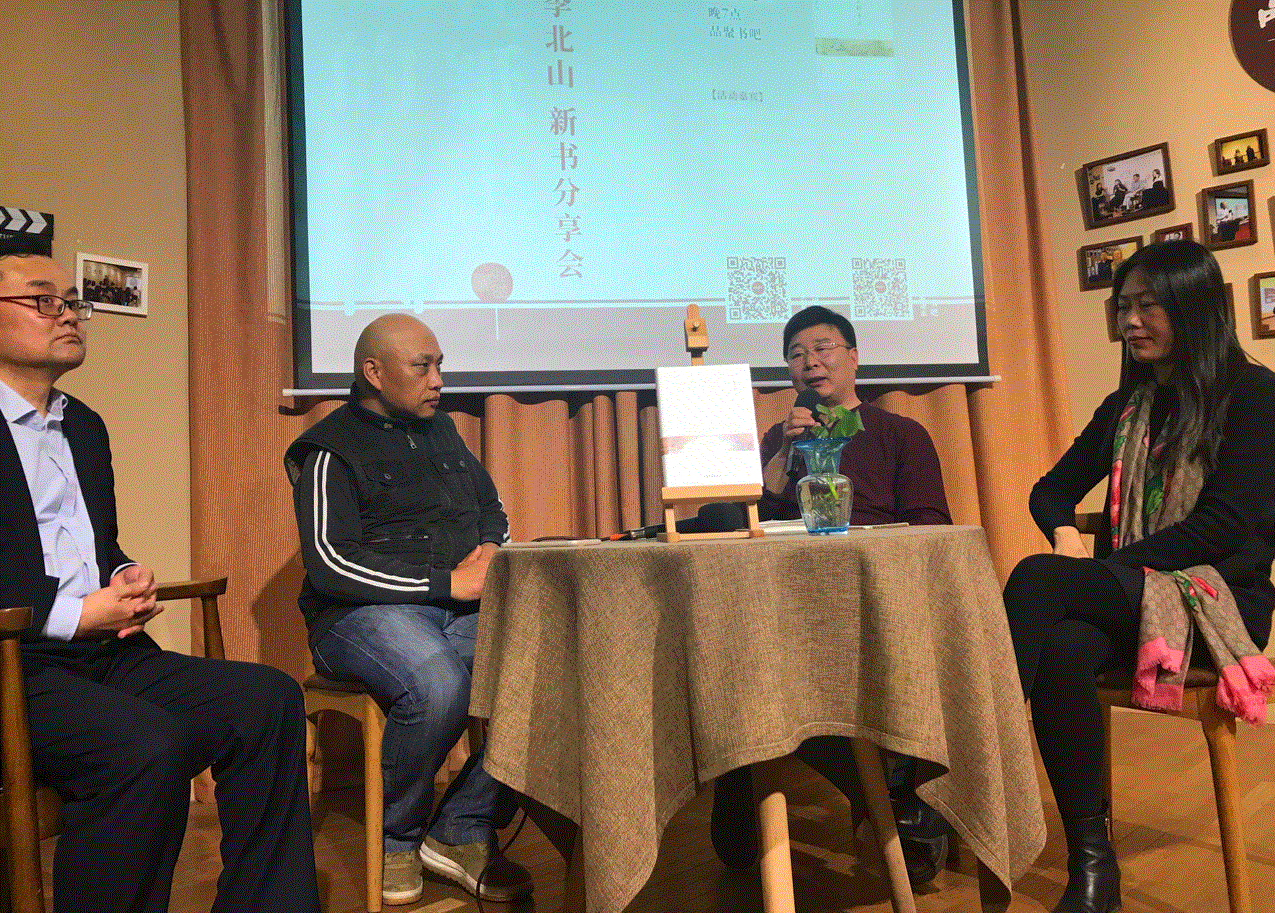 Mr.Ming Yang (left 1)、Mr.Jun Xie(right 2)and Mrs.Qian Li (right1)
" Reading the first several chapters, I was touched " talked by Mr.Ping Li who is a Vice-president and Professor of Academy of Art of Shandong University. Mr.Haisheng Jiang, President of Academy of Media of Shandong University of Political Science of Law, praised that Mr.Beishan Li's new book involved the elements of art and calligraphy, and had highly artistic achievement.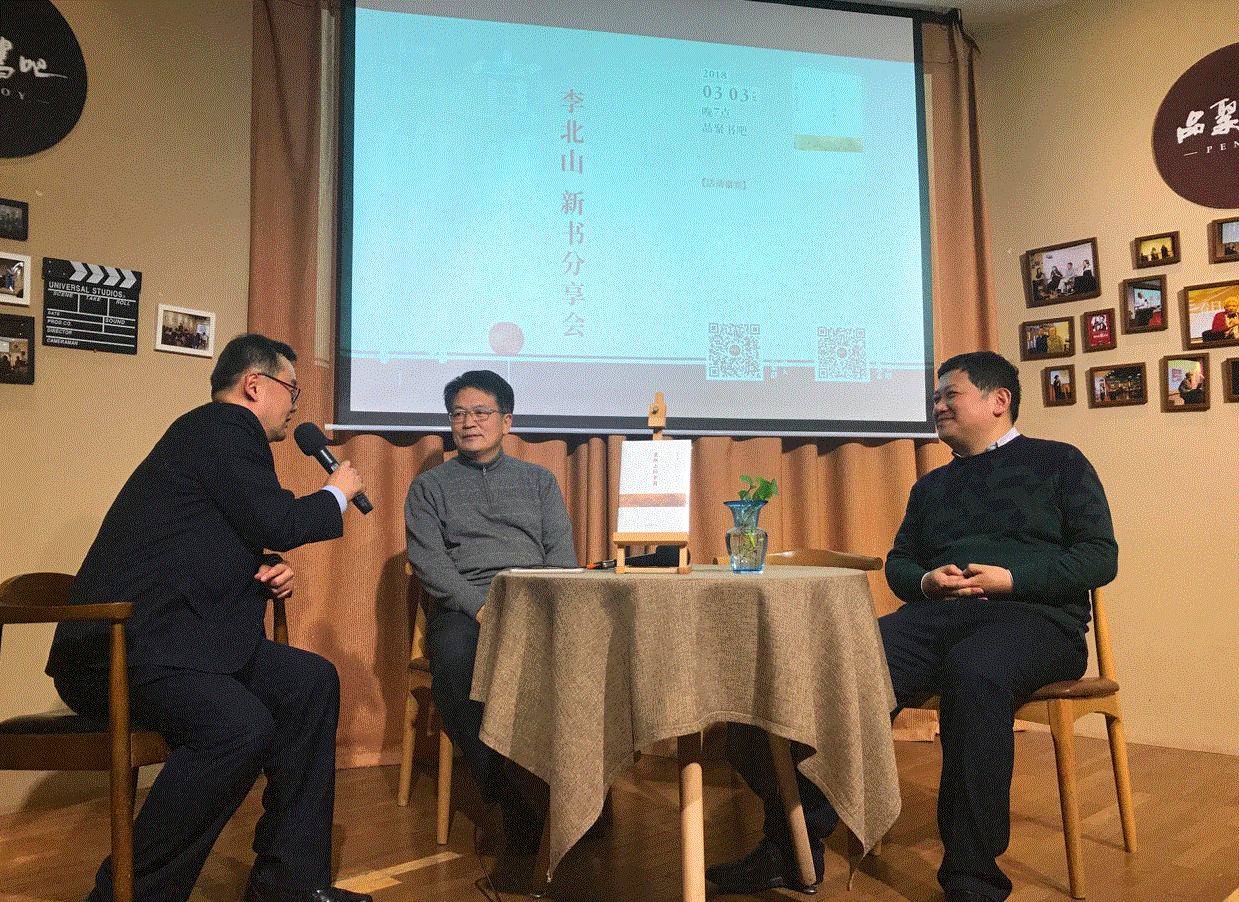 Mr.Ping Li (left) and Mr.Haisheng Jiang (right)
Before the end, all guests took the photos together to celebrate the new book sharing session tonight, meanwhile, Mr.Beishan Li signed the book for readers.